Archive for the '"I like"- shit' Category
Stef Bos zat vorige week bij GI:EL! op de Nederlandse 3FM.
Het concept is, 3 nummers live spelen. 2 eigen nummers en 1 cover.
Kijk eens aan welke opmerkelijke cover Stef hier neer wist te zetten …
RESPECT!
Je hoorde hem al vaker voorbij komen tijdens de uitzendingen van KingSizeRadio of Mannekepop …
Holly Johnson (ex. zanger/boegbeeld van Frankie Goes To Hollywood) is hélemaal weer terug van weggeweest. Op 29/9 komt zijn nieuw album 'Europa' uit. "Follow you're heart" en vooral de nieuwe single "In and out of love", zijn de opwarmertjes!

Nix mis mee, als U het mij vraagt!
"Stilstaan is achteruit gaan", aldus een oeroud Vlaamsch spreekwoord …
Dus besloten wij om niet stil te blijven staan en vooruit te gaan, zo simpel!
In de praktijk?
Het jinglepakket is vernieuwd. En we lanceerden een mobiele app. Vanaf nu kunnen alle Android gebruikers onze app downloaden in GooglePlay. Via de app kan je, in één oogopslag, de Facebook/Twitter/website-feed volgen, programma's herbeluisteren, … Wat vroeger via de website/social media ging, kan nu gewoon vanaf één plek, zijnde je mobiel/tablet. Uiteraard blijven alle andere platformen beschikbaar en up2date.
Ook voor de Apple-gebruikers zijn we in de weer. Alleen is de rompslomp net iets omslachtiger en de tijdsduur dus navenant …
Voor Petros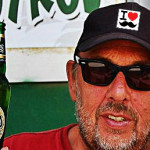 Moustakis (lees: Peter Vandam) zijn het drukke dagen!
Vorige week werd de stoere zeebonk nog bijna van zijn sokken geblazen door de reünie van, de nog immer populaire,  Radio Mi Amigo … Deze week is hij met zijn sleurhut richting "het grote onbekende" vertrokken, wat heet onbekend natuurlijk …
Anyway, ik mag het dus weer eventjes "uithangen" deze week … Het Mannekepop!
Hopelijk beleven jullie er evenveel plezier aan als ik!